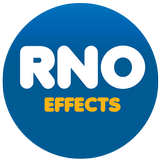 RNOEffects is a simple image processing program with a focus on good batch conversion options and alpha channel based effects.

Features:

Around 30 different image processing effects including drop shadows, elliptical crop, and other effects that would need several steps for other similar programs
Drawing options for brushes, text, lines, ellipses, boxes, and arrows
Batch converter and image joining/combining tools
All effects can be applied to images in a freely selectable order in a batch conversion or image joining/combining process
Unlimited number of images can be joined into a single image
Supports saving to PNG, JPEG, GIF, ILBM, BMP, and all Amiga icon formats
Can save multiple images as a single PDF file
ARexx support

Video: YouTube
More detailed information and download links at Aminet.

Also available via Grunch, MorphOS Storage, OS4Depot, and The AROS Archives.