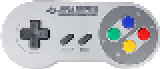 SnesMUI is a MUI based GUI for launching the Snes9x emulator. The program supports Command-Line syntax of both 1.4x and 1.5x versions of Snes9x.

Features:

The most important emulation options are configurable within the GUI
A custom arguments option to configure any other Command-Line options
Shows preview and cover images of games if available
Supports Zip archived ROM files
Automatic detection of the emulator version
Supports custom graphics in the GUI
More detailed information and download links at Aminet.

Also available at MorphOS Storage, or install via Grunch on MorphOS.